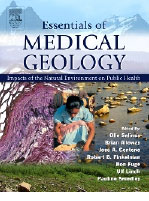 Introduction to Medical Geology
Topics to be Covered:
Introduction and Overview
Introduction to the Origins of Global Medical Geology
Metals in Human Physiology – Essentiality, Toxicity, Bioavailability and Risk Assessment
Health Impacts of Climate Change – A Medical Geology Perspective
Health Impacts of Dust, Soils, and Clay
A Medical Geology Perspective of Arsenic as a Poison – Risk Assessment Approach
Integrating Public Health, Earth Science, and Policy
Population Health – An Epidemiological Approach
Health Benefits of Rocks and Minerals and the Future of Medical Geology
Course Description:
Natural materials such as rocks, minerals, soil, natural dust, and contaminated water as well as geologic processes such as volcanic emissions and earthquakes, have and continue to be a major factor in determining the impact of the natural environment in the health of people around the world. In this short course, we will examine these geologic materials and processes to explore the varied and surprising ways they impact human and animal health, usually causing widespread and severe health problems but also producing unanticipated beneficial effects. Principal topics covered will include: basics of toxicology; an overview of geologic materials and processes; examples of how trace elements, minerals, and ambient dust impact human health; examples of how climate change may impact human health. Our aim is to provide a forum by which geoscientists and biomedical/public health researchers are teaming to find practical solutions to health problems associated with the natural geogenic environment, and how we can use principles of geology, chemistry, toxicology, and health sciences to better inform medical studies, public policy, and legal requirements.
Course Design:
This course has been designed and developed including considerations on pedagogy, content, instructional/reference materials available, potential availability of lab and field work, and student selection criteria of a research project. The instructional approach and selection of topics is strongly based on the evolutional changes and environmental management decisions that have shaped the geosciences and public health needs throughout the world. The student will be encouraged to evaluate the broader social (as well as legal) impacts, as well as need for integration within these disciplines, and across traditional sciences boundaries, fostering a multi-disciplinary, multi-investigator and multi-institutional science.
Traditionally, a class session will be offered once-per-week. Every class will cover a different topic with relevant reading materials. To aid in the understating of the topics discussed during class, students are expected to review and evaluate the reading materials including any additional research, questions, and references that the student may add to better understand the topic area. These student's evaluations and summaries will be used in class to augment our group discussion, and collected afterwards for the purpose of grading.
At the end, the student will be invited to select a research project involving the need for determining the interaction and integration between Earth Sciences and Public Health (in consultation with the instructor(s)), and to prepare a paper presentation and poster reviewing the geoscience and biomedical aspects of the problem.
The final grade will be awarded as follows:
•Overall participation in class: 10%
•Evaluation and discussion of topics and reading materials: 30%
•Mid-term exam: 20%
•Selection of Research Paper: 20%
•Final Poster Presentation: 20%
Level: Easy
Teacher: Robert B. Finkelman, Jose A. Centeno
Reference textbooks: In addition to the following suggested text books, students will be responsible for weekly readings from various published research articles and sources to be handed out in class.
Additional Videos and Reference Materials:
The following videos have been prepared and provided by the International Medical Geology Association (IMGA) (http://www.medicalgeology.org), and are intended to described the discipline of Medical Geology emphasizing current research projects. IMGA approvals have been received for the use of these videos by the Environmental & Health Sciences Consortium for inclusion in the course entitled " Introduction to Medical Geology".
Additional videos and references materials will be made available throughout the semester.